Sparkling Tea and Cheese Pairing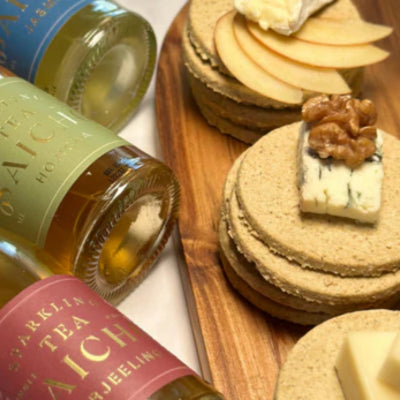 Enjoy Saicho sparkling tea pairings with your cheese boards. 
You may have paired our sparkling teas with some of your favourite foods, but have you considered making our sparkling teas a part of your cheese board? While the idea may seem unusual, the combination of flavours and textures can be surprisingly delightful. 
Sparkling tea and cheese your new favourite thing. 
The natural tannin in our sparkling teas make them perfect for pairing with foods, and cheese is no exception. Saicho has a light effervescence mouthfeel which makes it a refreshing option when pairing with bold flavours and the bubbles help to enhance the flavours further.
Our range of teas mean you can pair them with a diverse range cheeses, from creamy and buttery to more sharp and pungent flavours. 
Here we have recommended the ideal cheese pairing for each Saicho sparkling tea. The perfect end to a dinner party that will keep the conversation going. 
Saicho's Darjeeling sparkling tea pairings with cheese. 
Our Darjeeling sparkling tea is a black tea grown in the foothills of the Himalayas, offering a unique muscatel flavour. It offers notes of mandarin, ginger, and wood spice, with gentle, dry tannins, pairing wonderfully with semi-hard and hard cheeses, such as Swiss and Gruyere. The fresh and fruity notes from the sparkling tea balance the nutty and savoury flavours of the cheese, creating a harmonious and satisfying taste experience.
For a more robust pairing, we suggest pairing Darjeeling sparkling tea with aged Parmesan or cheddar cheese. Want to take your cheese board to the next level, why not make some Parmesan crisps? The sharp and pungent flavour of the cheese complements the subtle fruity notes of the Darjeeling sparking tea, creating a bold and intense flavour combination.
Saicho's Hojicha sparkling tea pairings.
Our Hojicha tea is a roasted green tea from Japan offering a deep umami character with notes of nori seaweed and roasted hazelnut with dry, woody tannins. This sparkling tea pairs well with nutty and earthy cheeses, such as Gouda and aged cheddar. The smoky and roasted flavour of Hojicha sparkling tea complements the nutty and caramelized flavours of the cheese, creating a rich and satisfying taste experience.
For a more adventurous pairing, why not try Hojicha sparkling tea with blue cheese? The sharp and salty flavour of the blue cheese contrasts with the nutty and toasty flavour of the sparkling tea, creating a complex and intriguing flavour combination.
Saicho's Jasmine sparkling tea pairings with cheese. 
Our Jasmine sparkling tea, from Fuding, in Fujian province, China, is a fragrant and delicate tea that pairs well with light and fresh cheeses, such as goat cheese and feta. The floral notes beautifully complement the tanginess of the cheese, while the light and refreshing taste coming from the sparkling tea cleanses the palate between bites.
For a more indulgent pairing, try Jasmine sparkling tea with brie or camembert cheese. The buttery and creamy texture of these cheeses enhances the floral aroma of sparkling tea. This creates a luxurious and aromatic flavour combination.
Whether you prefer fragrant notes from our Jasmine sparkling tea, delicate smoky nutty notes from our Hojicha sparkling tea, or fresh mandarin and ginger notes from our Darjeeling tea, there is a cheese pairing for you.