A Toast to Excellence: Saicho Sparkling Tea wins Great Taste Awards in 2023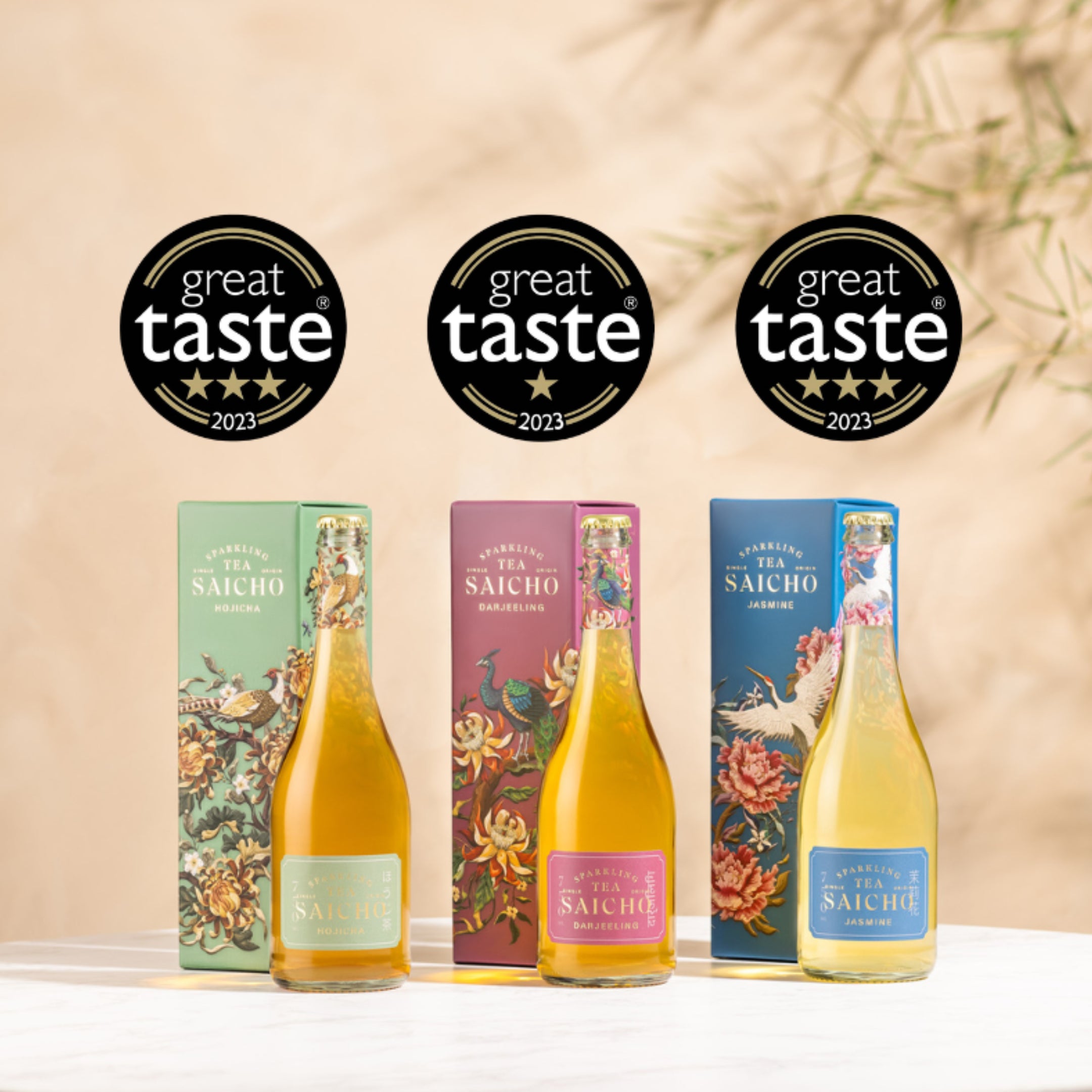 Whether you're a certified food enthusiast, a beverage aficionado, or just someone who appreciates top-notch quality food and drinks, you will be aware of the auspicious  Great Taste Awards. The esteemed symbols, bearing the words "Great Taste" which winning products proudly wear  are bound to catch your eye when you're on the hunt for your next holy grail food discovery. 
The Oscars of Food and Beverage
The Great Taste Awards, presented by the Guild of Fine Food, is a celebration of taste and quality like no other. Often described as the Oscars of the food and beverage world, the Great Taste Awards enlists a panel of 500 experts composed of the world's most renowned chefs, culinary aficionados, and accomplished restaurateurs, who then undertake the challenging task of blind-tasting over 14,000 products from over 100 countries to unearth the finest food products available. Products are judged not only on taste but also on appearance, aroma, texture, and overall balance.  
Saicho Sparkling Tea is thrilled to announce that our entire range of Sparkling Teas have been recognised by the Guild of Fine Food in 2023! Our Saicho Darjeeling Sparkling Tea has received a 1-star Great Taste Award, while our Saicho Jasmine Sparkling Tea and Saicho Hojicha Sparkling Tea variants have won the much coveted 3-star Great Taste Award, of which only 1.8% of products entered win. 
What Great Taste Award judges said about Saicho
The Great Taste Awards represent a level of quality that exceeds high standards, making its black stickers a trusted marker of exceptional craftsmanship and flavour. Our Saicho Sparkling Teas have proven to be exactly that, with judges describing our products as unique, delightful, and complex.
Our 1-star Great Taste Award-winning Saicho Darjeeling Sparkling Tea was described as having "a wonderful depth of colour and a rich enticing nose with floral notes, lots of orange and a hint of tobacco from the tea." Judges also noted that "the flavours are delightful."
Meanwhile, our 3-star Great Taste Award-winning Saicho Jasmine Sparkling Tea has a "beautiful light colour, lovely mousse, exceptional nose of the Jasmine tea, fragrant lychee and vanilla," to which the judges added that "the flavour is underpinned by the Jasmine tea throughout, layered with fruit flavours and a creamy undercurrent of vanilla which adds a nice feeling of body." The judges were notably beguiled by Saicho Jasmine's flavour and finish, noting that it has a distinct floral nose. 
Last, but definitely not least, is our 3-star Saicho Hojicha Sparkling Tea, on which the judges remarked that "you can taste the care that has gone into the making of this tea. There is a good balance of tannin with just the right amount of sweetness." The judges also noted that the nutty and complex Saicho Hojicha has a soft sweetness and a charmingly textured mouthfeel, noting that "...this is a unique tasting drink, unlike anything the judges have tasted before. It is fabulously savoury, the seaweed and chestnut flavours come through well and this is a drink which would lend perfectly to pairing with cheese and other foods." 
"This is a fantastic milestone for the brand, recognising our commitment to producing the finest quality sparkling teas. These awards are well recognised and trusted by consumers across the globe and support our mission to provide consumers with a quality experience of the non-alcoholic category" – Charlie, Founder of Saicho

For more information about the Great Taste Awards and the Guild of Fine Food, please visit https://gff.co.uk/awards/great-taste-awards/